Do you want to create a MORE PRESENT, RICH AND MEANINGFUL LIFE?
JOIN an 8-week mindfulness course to create the DESIRED CHANGE!

During this mindfulness based course we will practise tools & techniques, which enable you to become more aware of yourself, your emotions and thought patterns and increase the resilience in challenging situations.
You will learn how:
♦ to be in "here & now", improve concentration and re-focusing skills as well as notice and enjoy the richness of life, moment by moment.
♦ to respond to difficult emotions, thoughts, obstacles and unpredictable situations skillfully, rather than to be "hooked" by them and merely react.
♦  to make conscious choices for improving your relationships, nourishing and supporting yourself and balancing your life.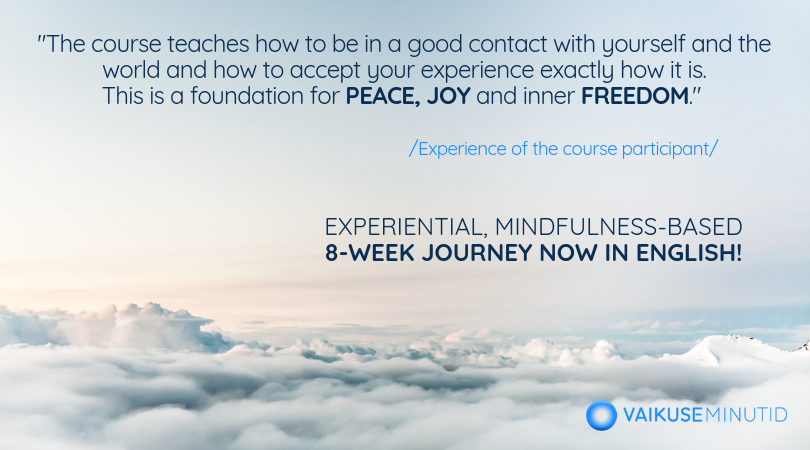 ◊  Mindfulness is the basic human ability to be fully present, aware of where we are and what we're doing, and not overly reactive or overwhelmed by what's going on around us. Research has shown good results of mindfulness practice in work related areas in the following:
♦ decreased reactivity, stress, burnout risk;
♦ increased well-being and resilience, improved concentration, productivity and creativity. More effective collaboration, more skillful response to difficult emotions, thoughts, obstacles and unpredictable situations.

Additionally, work-related performance is supported by further changes in other life areas, such as better sleep quality, increased ability to relax and improved relationships.
Each of the 8 COURSE WEEKS has a specific focus area:
Week 1: Waking up from the autopilot
Week 2: Anchoring in the body
Week 3: Daily Awareness
Week 4: How to relate to the thoughts (and to reduce the impact of unhelpful thoughts, beliefs, images and memories)
Week 5: Turning towards difficulties (skilfully dealing with emotions)
Week 6: Connecting with yourself and others
Week 7: Re-balancing your life
Week 8: Mindfulness and your precious life (ongoing integration)
The course will run over 8 weeks, which helps to integrate new knowledge, skills, habits and attitudes. In order to acquire every new skill, continuous practice is required, so it is important that the participant commits to home practice for at least 20 minutes a day during the course. Everyday practice is conveniently supported by audio files and written materials.
The 8-week mindfulness course by Vaikuseminutid (Minutes of Stillness) is based on mindfulness programs MBSR and MBCT, the Art of Conscious Change courses and experiences of Vaikuseminutid.

The course includes: 8 group based sessions in supportive, experiential environment, the book "Mindfulness: A Practical Guide to Finding Peace in a Frantic World", course materials, in-between sessions support, completion certificate (prerequisite is the participation in at least 6 sessions).